A.k.a. Woody Cemetery, Hickory Cemetery, Glenn Family and Kleberg Mexican
LOCATION:  2200 Block Woody Road, corner of Kleberg, 3 blocks SW of C. F. Hawn Freeway (Hwy 175), Dallas, TX (Kleberg Community) – View on Google Maps
MAPSCO REFERENCE: 69A-V
GPS: TBD
Kleberg Cemetery consists of three major sections: Glenn, Kleberg and Mexican.  The cemetery has also been known as Woody Cemetery and Hickory Cemetery.Glenn Family Cemetery, Kleberg Cemetery and Kleberg Mexican Cemetery were inventoried on 15 July 1992 by DGS volunteers. DGS volunteers Kelvin Meyer, Patricia L. Hatcher, Sharon Henry, Terri O'Neil, Elizabeth "Pinkie" Feigl, and Fran Hawkins conducted a partial inventory in 2008. These cemeteries were re-inventoried on 26 September 2011 by DGS volunteers Kelvin L. Meyers, Pat Hatcher, Lloyd Bockstruck, Fran Hawkins, and Barbara Ware.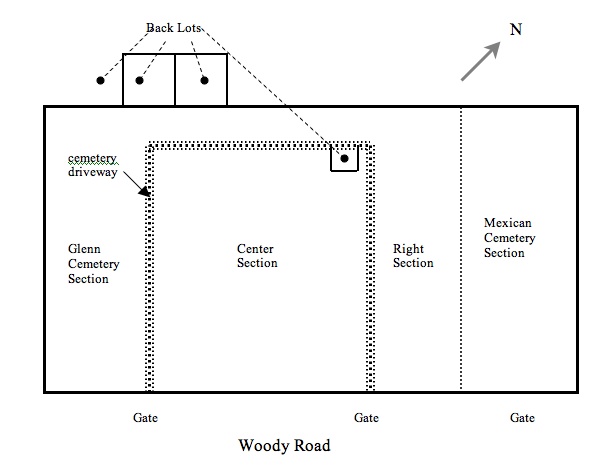 The Glenn Cemetery is located on the left of the main cemetery and was inventoried left to right with 4 tiers (rows) running from front (Woody Road) to back.
Kleberg Cemetery was inventoried in tiers (rows) running front to back and numbered from left to right beginning on the right of the main gate and cemetery drive. Three of the private lots, located outside of the cemetery driveway at the back of the cemetery (Mitchell, Bigham and Woody). Two of these three are fenced (Mitchell and Woody). There is another lot at the back within the cemetery road that is fenced on three sides.  There are other smaller individual fenced family plots. For the purpose of this transcription, the section inside cemetery drive is called the "center section."  The section to the right beyond the cemetery drive is called the "right section." There are a number of unmarked gravesKleberg Mexican Cemetery is located east of Kleberg Cemetery. It has its own gate, no sign and is divided from Kleberg Cemetery by a barbed wire fence. There are quite a few unmarked graves and some are marked with a concrete cross with no inscription. The tiers (rows) were arbitrarily numbered from the right to left. Note: In all sections of the cemetery, the tiers do not always run true, so that there are partial tiers between full-length tiers. There are a number of unmarked graves. For this transcription numbers were arbitrarily assigned to tiers and graves in order from front to back. To find an individual in the cemetery, it is suggested that you begin by finding the individuals in grave 1 on desired tier and walking from Woody Road to the back, looking at graves in tiers on either side.