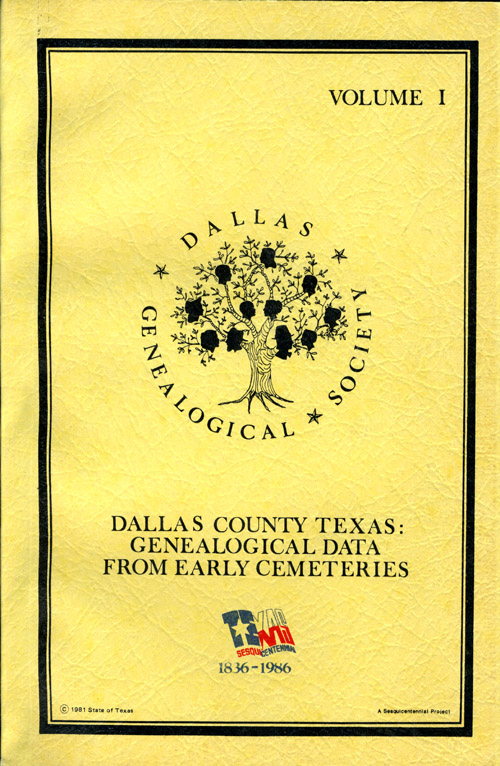 Title:
Dallas County Texas: Genealogical Data from Early Cemeteries – Volume I
Description:
Contains approximately 12,000 interments in 50 cemeteries located in northern Dallas County, including Addison; Carrollton, Coppell, Farmers Branch, Garland, Richardson, Rowlett, Sachse and Dallas (north of Northwest Highway).  Large, modern perpetual-care cemeteries are listed with mailing addresses and date of first burial, but not individual names. These were not inventoried, but burial records are available from the cemeteries. Surname and cemetery index begins on page 204.
Date Created:
1981
Creator:
Darnell, Rubyann Thompson; Jamieson, Adrienne Bird ;Lu, Helon Mason
Publisher:
Dallas Genealogical Society
Coverage:
United States – Texas – Dallas County;
Subject:
Cemetery Records
Key Words:
Texas — Genealogy;
Language:
English
Resource Type:
Text
Format:
Paper; Number of Pages: 222; Height (Inches): 8.5; Width (Inches): 5.5; Binding Type: Glued;
Date Created:
1982
Relation:
Paper Copy of Dallas County, Texas: Genealogical Data from Early Cemeteries – Volume 1; Created: 1982;
Rights Holder:
Copyright – Dallas Genealogical Society
Notes:
This document was also published by DGS on Microfiche.
It has not yet been digitized: Tony Hanson has the last copy owned by the society.